3D Laser Scanning Services
Our company has extensive experience in both 3D Laser Scanning and processing Point Clouds from all types of Data Collection methods. We are professional land surveyors who have worked all around the world. We have been chosen by numerous companies and professionals to provide data for their 3D scanning projects, topographical site surveys, building scans, and engineering sites.
We pride ourselves on the quality of our services and the relationships we develop with our clients. We strive to provide world-class levels of client satisfaction along with outstanding delivery terms. We guarantee that if we do not provide a job to the agreed specifications, then we will provide that service free of charge. We think this is a unique promise that separates us from others in this field.

What We Offer:
Scan Consulting: A full range of consulting for your next Laser Scanning project.
Processing: We process your scans from all survey data collection types.
3D Models: We produce your final models in 3D.
Drone Consulting: We  provide expert help in survey mapping with a drone.
Scanning Services: We can complete the Laser Scanning project for you.
4D Models or BIM's: We take your 3D model and make it smart by adding data, building information modeling.
Extraction: We manage, assess and extract your data using state of the art 3D mapping products.
What Are 3D Scanning Services?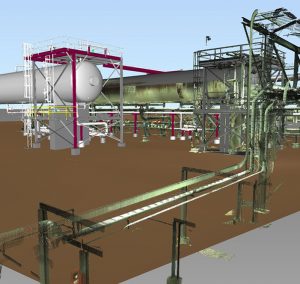 Terrestrial & LiDAR 3D scanning are techniques for collecting high-density spatial imaging with millions of coordinates quickly and accurately.
Using highly accurate 3D scan data generated with 3D scanning you are able to view as-built documentation in a virtual world. The point cloud data can also be surfaced to generate a CAD model which can be used for comparison or reconstruction.
The size of the specimen being scanned is no longer limited to the directional travel of a machine, or the reach of an arm. Scans can be taken anywhere, at virtually any time. The raw output of terrestrial scanning is "point-cloud" data, which we can use as reference to create a fully parametric file in your design software.
3D scanning also helps build a factual and accurate foundation that captures and enhances the necessary dimensions of complex environments and geometries for BIM (Building Information Modeling). Scan to BIM is the fastest, most accurate method for delivering as-built models -there is no comparison on the level and accuracy of data gathered during 3D scanning.
3 Key Benefits of 3D Laser Scanning:
Speed, Accuracy, and Consistency – 3D Laser Scanning enables a fast and accurate means of collecting millions of measurable data points in seconds to provide pinpoint accuracy, every time.

Scans are virtually unlimited in size and environment, including daylight or dark, indoors or outdoors.
You can receive complete documentation of existing as-built conditions in order to verify compliance to the design plans.
3D Scan and replicate sites with ornate details

Valuable Data for Design – Datasets (Point Clouds) are dimensionally accurate, measurable, and shareable so you can eliminate any guesswork back at the office.

The data is a permanent record for immediate or future use.
2D or 3D CAD models can be produced to test and/or verify design concepts.
Scanning saves time and costs by reducing the time with cameras and surveying or other measurement devices.

Works on Retrofits and New Builds – For detailed MEP Installations, you need a high level of accuracy.

If your project is complex, or involves retrofits, or requires refurbishment, you can capture precise data over the full measurement range.
Scanning provides more accuracy than traditional surveying, models include all current building elements such as beams, columns, ceilings, internal walls, external landscape and fittings.
Increased safety in unsafe locations
3D Scanning Deliverables:
3D CAD Models
BIM Integration
As-built Documentation
Fly-through and presentation capabilities with more accuracy than photos or video alone
Point Cloud Data
Elevation Drawings
Plan View Drawings
Civil Engineers, particularly structural engineers, have many great uses for Laser Scanning. Buildings and other structures can be measured to a very high accuracy. This allows multiple measurements to be taken from the model without going back to the field.
As-built surveys before design and after construction are other valuable uses for laser scanning. A very precise 3D model is the best record of existing and as-built conditions.
Structural engineers can take this multiple steps forward by doing building information modeling even allowing takeoffs, documenting quantities, recording the time and costs for the construction.
as-built measurement & modeling[
existing conditions documentation
building information modeling
Great experience in the construction of residential buildings allows us to build houses, villas and country cottages. Design and construction of your new home will take the most talented architects and builders. Your home will be the most beautiful.
House and interior concept is not divisible, which is why interior design should be beautiful and comfortable. Modern interior design of a cottage or a country house requires special attention. A beautiful country house or cottage is already even a real art, which requires a special approach.
development of technical specifications