Pipe is a tubular section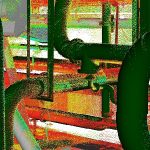 [vc_row][vc_column][vc_column_text]A pipe is a tubular section or hollow cylinder, usually but not necessarily circular cross-section, used mainly to convey substances which can flow liquids and gases (fluids), slurries, powders and masses of small solids. Can also be used for structural applications; hollow pipe is far stiffer per unit weight than solid members.

In common usage the words pipe and tube are usually interchangeable, but in industry and engineering, the terms are uniquely defined. Depending on the applicable standard to which it is manufactured, pipe generally specified by a nominal diameter with a constant outside diam (OD) and a schedule that defines the thickness.
Pipes vary in materials from which they are made
Proper selection of pipe largely affect the reliability of the pipeline operation and significantly increases its service life. Pipes must be durable, resistant to soil, groundwater and ground currents, withstand the internal pressure of the water, have a smooth inner surface and waterproof walls, as well as, importantly, affordable price. Produced modern pipe industry to a greater or lesser extent correspond to requirements imposed on them.[/vc_column_text][/vc_column][/vc_row][vc_row][vc_column][vc_empty_space][/vc_column][/vc_row][vc_row][vc_column][st_image_slider_module images="10562″][/vc_column][/vc_row][vc_row][vc_column][vc_empty_space][/vc_column][/vc_row][vc_row][vc_column][vc_column_text]Steel pipe is most often used for water supply. When selecting such tubes allow for a wide range of diameters, steels, and the wall thickness. The steel pipe can be either seamless or welded. The first are more reliable, but they are more expensive than the latter. Seamless steel pipe is usually used in the case of welded pipes can not be used. Welded pipes differ in chemical composition and mechanical properties, as made of different kinds of steel.[/vc_column_text][/vc_column][/vc_row]